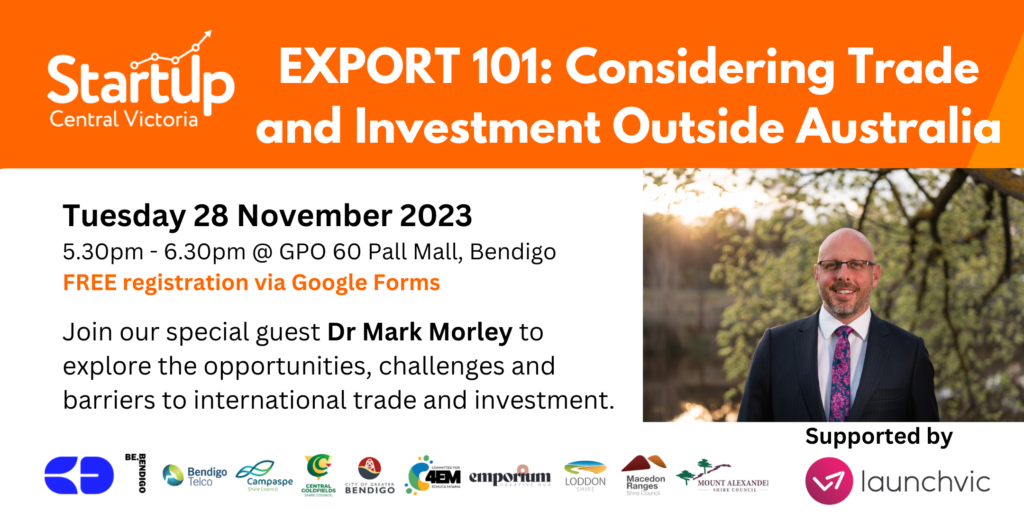 Although Australian companies are innovative, decisive and lead the world in terms of our skill and expertise, we have a small domestic market, and – increasingly – companies across the world are an audience for our product or service, and our competitors.

Join Mark over light refreshments in the GPO Courtyard as we speak through the opportunities, challenges and barriers to international trade and investment, and consider how you might plug into the global market from central Victoria.

DR MARK MORLEY 
 
Mark calls Bendigo home, and was raised in regional Victoria, outside Shepparton.  
 
Mark has a strong consulting background, and extensive networks in regional businesses in Victoria. He was a Senior Trade and Investment Commissioner for Austrade in Egypt and Saudi Arabia (2013-2018) and India, Bangladesh and Pakistan (2018-2020) and has worked at Regional Development Victoria and Telstra in senior-level marketing and management roles. 
 
Mark has a BComm, a BA in Arabic, a Master of International Relations, and a doctorate awarded by Monash University Law School in an area of constitutional law. Mark has also published a book on the subject. 
 
Mark has his own start-up in Australia and Malaysia – Milne Bay – and serves as an independent director at Bendigo Community Health Services, The Leprosy Mission, Regional Partnerships Loddon-Mallee, Creek Street Christian School and the Anglican Diocese of Bendigo.